1. The Golcha Cinema in Jaipur belongs to the prominent Golcha family who were once Nagar Seths of the Pink City. Nagar Seths in the days of the yore were super rich traders of a city who controlled its economy, enjoyed a lot of clout and lent monies to royal families, and later even to the Europeans on interest. The Golcha family is known for their outstanding contribution to Indian Cinema and were into film distribution. The family had constructed many cinemas/theatre halls across the country. Renowned among them are Raj Mandir in Jaipur and Maratha Mandir in Mumbai where the Bollywood bubble gum pink Dilwale Dulhaniya Le Jayenge was screened for a continuous record breaking 20 years.
2. Just opposite the Golcha Cinema was once the Film Distributors Lane. It was the film distributors of Jaipur who had released Alam Ara, the first full-length Indian talkie film to North India in the 1930s after Mumbai. They also catered to the then thriving Punjabi film industry of Lahore (now in Pakistan) known as Lollywood.
3. Golcha Cinema is on Chaura Raasta which literally translates to "wide street" which connects straight to the City Palace where the Jaipur Royal Family stays. Chaura Rasta has 56 big and small temples, mostly private and family temples.
4. Unlike Hindu temples where there is a garbha griha (sanctum sanctorum) for the deity, crowned by the shikhara (tower like structure), a congregation hall and an elaborately decorated torana (gateway) with space for faithfuls to do their parikrama (circumambulation) in the clockwise direction, in these family temples of Chaura Rasta, the deity is given space in a particular room in the house and treated as a member of the family.
5. It is in one of these family temples where one can see Rajasthan's most intriguing fresco which is said to be 250 years old. Though in bad condition it shows the most admired and adored figure in the Hindu pantheon Krishna playing a game called gendi dara which surprisingly resembles modern day field hockey. Gendi dara finds mention in ancient Hindu scriptures. Archeologist have discovered 4000 year old hieroglyphs of people playing a game with a stick and ball that resembled field hockey on a pyramid in Egypt. Perhaps the game never originated anywhere, but evolved throughout the ages to its current avatar.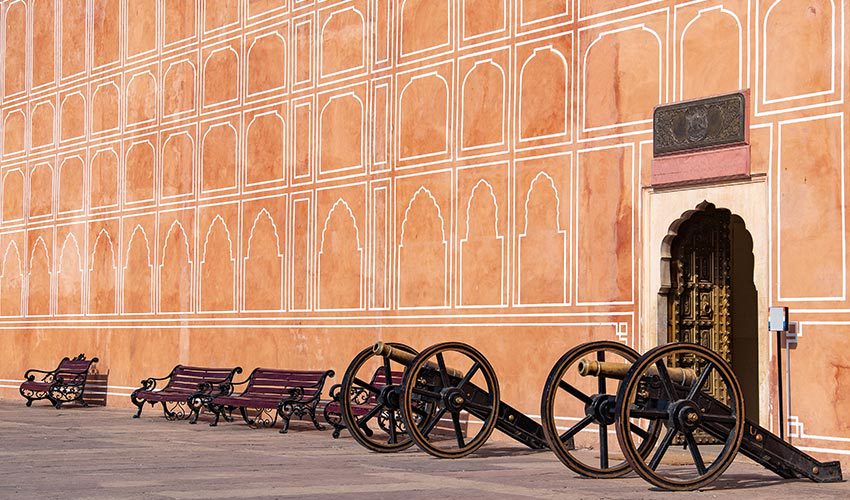 6. When Maharaja Jai Singh II in the 18th century built the city of Jaipur he had a well thought out business plan. He wanted to make full use of the opportunity given that during the winter months when the Khyber pass was closed, Jaipur was an important halt in the alternate summer trading route from Persia (now Iran) to India via Baluchistan, Sindh (both now in Pakistan) Jaisalmer, Jodhpur and Jaipur in Rajasthan. He had planned and done a survey even before he built the city what skillsets will be required for that.
7. Why were people with specific skill sets given a particular street in Jaipur of their own where they worked, did business and lived with their families by Maharaja Jai Singh II? Here's the answer. First, it was done to keep the cost down. When the competition is happening in a single location, the costs will be always competitive. Second, when the competition happens together the quality will always be high and there will be innovation to stay ahead of the curve.
8. Thatero-ka-Raasta is a lane where the Thateras (community of metal beaters) stay with their families and make utensils. Very interestingly the word Thatera has no meaning, but owes its origin to the very sound created when they beat malleable metals such as copper, and also alloys such as brass and bronze and sometimes iron.
9. Nataniyo-ka-Raasta, right next to the Thatero-ka-Raasta has many temples, but it is famous in Jaipur for its wholesalers of Gol Gappa, a round crisp fried hollow pattie which is filled with a mixture of flavored water, tamarind chutney, chili, spices, potato, onion and chickpeas in small portions to be gulped down at one go. Gol Gappa is one of India's favourite street snack and majority of the consumers are women. And here's something interesting. Since women in India fast a lot, these vendors at Nataniyo-ka-Raasta now has Gol Gappas made out of chestnut flour. When Hindus fast they are allowed to have breads and patties made out of chestnut flour. This ensures the Gol Gappa vendors of Jaipur have brisk business even when their customers are fasting during religious occasions.
10. The 250-year old Anant Bhagwan Mandir at Nataniyo-ka-Raasta showcases Rajasthan's traditional plastering technique of Araish. It is a plastering technique that produces an extremely smooth, glossy and crack-free surface. Araish was developed in the 17th century and flourished in Rajasthan. Good Araish plaster is so glossy that you can see your own reflection clearly on the surface. The main ingredients of Araish plaster are quick lime, marble dust, curd, jaggery and fenugreek.
11. After the Fort area in Mumbai, Jaipur was second city in India to have pipelined water.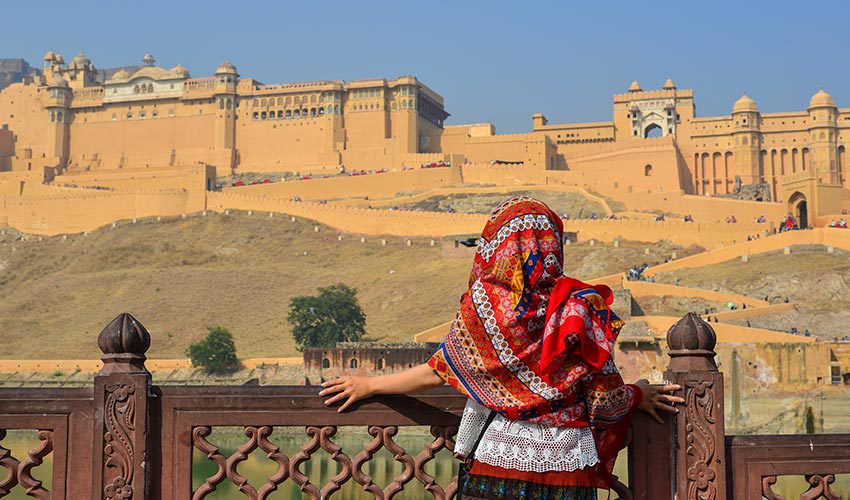 12. During its heydays Jaipur had as many as 130 small and big Havelis (urban manors) where rich traders, priests and Rajput families associated with Princely Jaipur stayed. The Gokhas of these Haveli, the outdoor sitting area exclusively for the gents of the family, has a striking resemblance to the Balcao of a traditional Portuguese house which one can see in Goa. Just like the Balcao, the Gokhas suited the social pattern during the days of the yore where persons of lower strata were entertained outside the house. The Havelis of Jaipur are a fascinating language of regional architecture and traditions where technology was a limiting factor in covering a large space under one roof.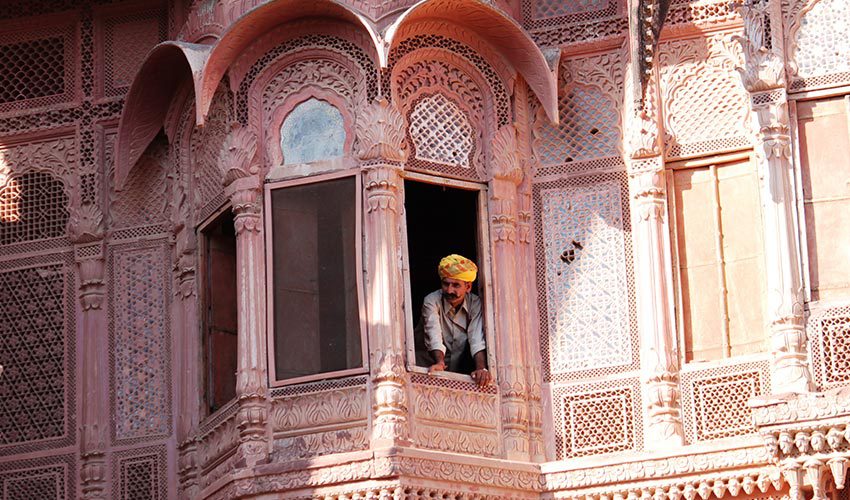 13. The multiples of 3 played an important role in the architecture, design and lay-out of Jaipur. When Jaipur was constructed everything was measured in yards. 1 yard =3 feet. So it was, for example, either 3 windows, 9, 18 so on and so forth in the multiples of 3. Talking about multiples of 3, the area of Maharaja Jai Singh II's Jaipur was 9 square miles and was divided into 9 quadrants; two royal and 7 civilian.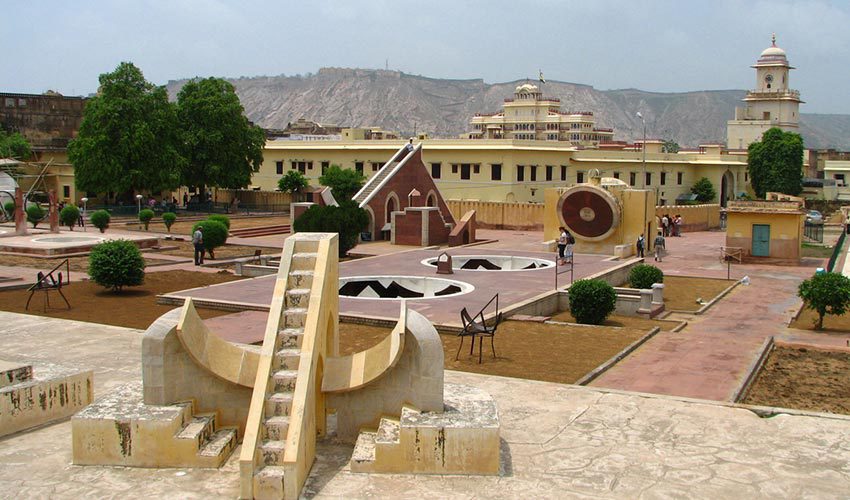 14. The tradition of Dhwaja Pariksha in the Royal Jaipur observatory which goes back to the 18th century predicts the onset of monsoon. Scholars and astrologers still gather at the Jantar Mantar every year during the month of June/July and climb over the 90-feet-high Samrat Yantra, the largest instrument of the observatory and spend time to study the wind direction while doing their predictions of the onset of monsoon to the Pink City.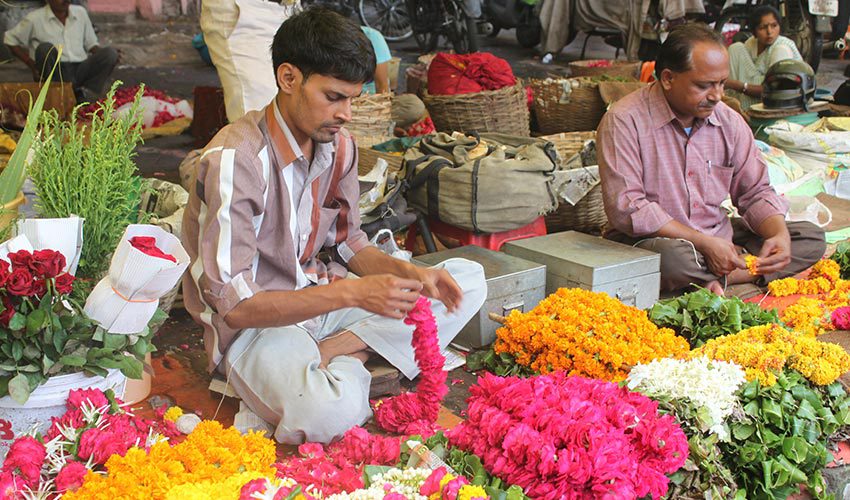 15. 9 out of 10 wedding garlands exchanged between brides and grooms in Jaipur are made in the flower market of Choti Chauper. Chauper means square and Choti means small. There are 3 Chaupers in Jaipur; each has a temple with a flower market catering to the devotees.